Enhancing Chinese Language Literacy Through Virtual Reality (VR) in Education
Secondary school students, restrained by their life experience and exposure, often show a shallow knowledge and understanding of the subject matters in the learning of Chinese language, and fail to express themselves with personal touch and sensation. The Jockey Club VR Project for Enhancing Chinese Language Literacy aims at harnessing virtual reality (VR) technologies to enhance the effectiveness of learning and teaching Chinese language. VR enables students to be exposed to scenarios outside classrooms without temporal and spatial limitation.  Students will be able to "travel through" and observe in details places that they can hardly go in reality like sub-divided flats, the historical Hong Kong, etc.  By immersing themselves in the environments, students will find it easier to build connection, develop affection, stimulate thinking and feelings, which are all valuable ingredients for Chinese writing.  The Project helps strengthen students' Chinese reading and writing proficiency, literacy and sense of humanistic care.
Uniqueness and Competitive Advantages:
Overcome the limitations of time, location, weather and number of students
Base on local literature and landscapes in 9 districts in producing VR teaching materials
Help students understand the community better and deeper, and reflect on social issues
Bring depth to students' writing, broaden exposure, and enhance social awareness, connectedness and responsibility
Provide Teacher Professional Development Programmes: open classes, VR workshops, school-based coaching
Students and teachers of Chinese Language in F.1-F.3.  Chinese teachers not from the participating schools may also download the teaching packages and VR kits at the Project website and use in their classes.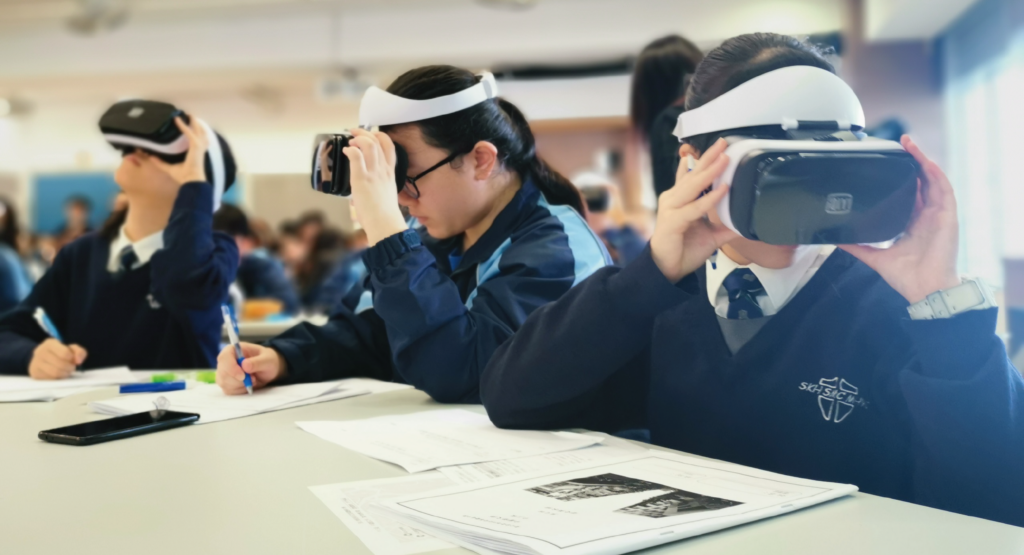 How students observe the 360 scenes in the VR teaching kits (Using the clips of Shamshuipo VR kit as an example):
The clips span for about 1 minute and show the sceneries taken along the street.
When the observers gaze up, down, to the left or to the right, the 360 scenes showing in the clips will also change accordingly.
Teachers may set interactive questions in the 360 scenes at designated times for students to answer.  The questions aim to stimulate students' reflections.